Sydney Airport parking map
Driving to Sydney Airport? Parking at the airport couldn't be more convenient. With secure car parks located in walking distance of the Domestic and International terminals, getting where you need to go is quick and easy.
For short stays, try our short-term or express car parks, located just minutes away from both terminals. For extended stays, our long-term car parks offer complete flexibility.
View the Sydney Airport parking map below. If you need assistance finding your way around when you arrive at the airport, speak to one of our friendly staff.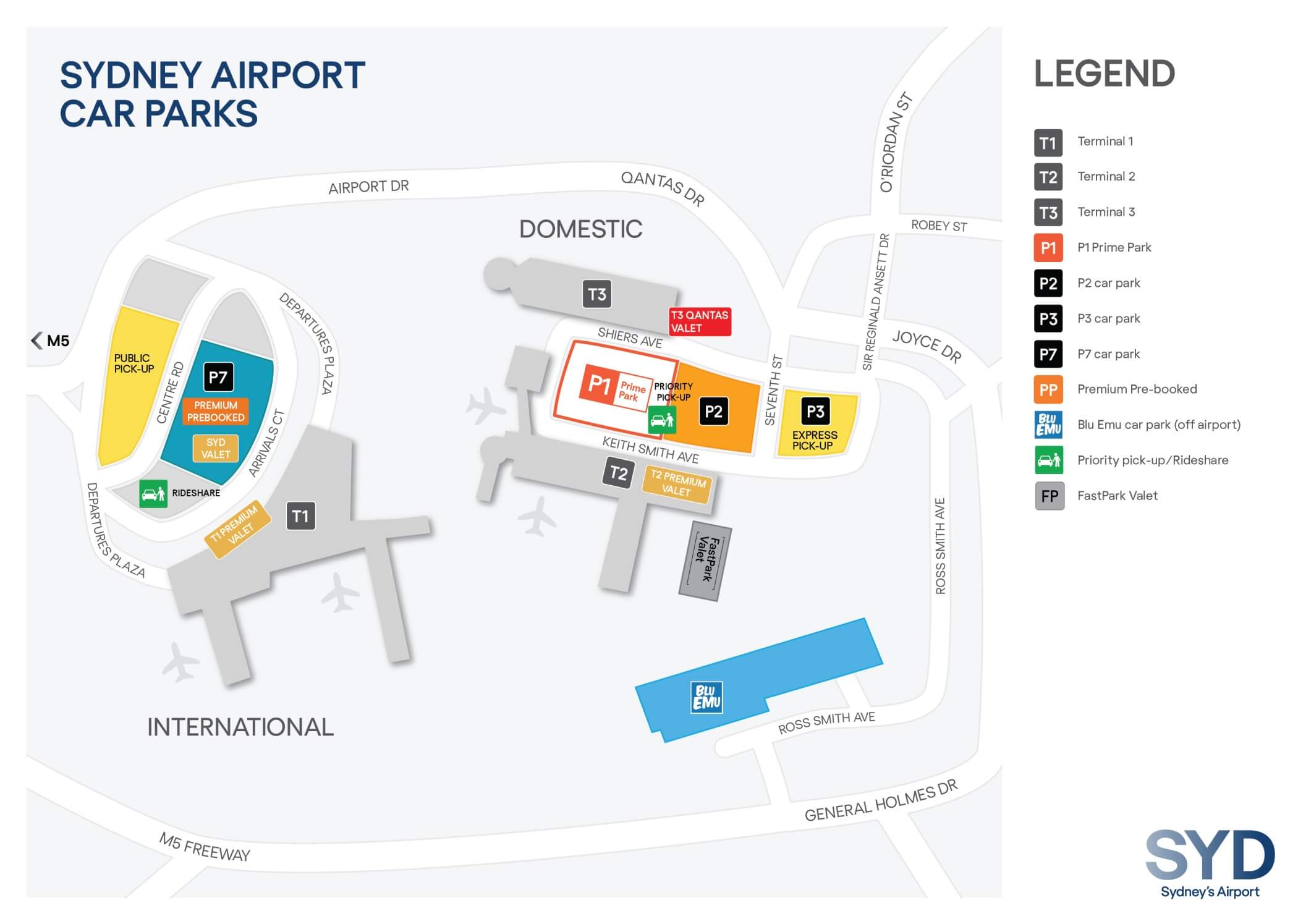 About Sydney Airport Parking
Know which parking option is right for you?
Most frequently asked questions
When should I arrive to pick someone up from the airport?
As a general rule, arrive 30 minutes after their flight is scheduled to land. It may take some time to get off the plane, collect baggage and make their way through the airport to the Express Pick-up zone. You may want to have your passenger call you when they're ready to be picked up to minimise waiting time.
Is it cheaper to book airport parking in advance?
Yes! You can save up to 70% by pre-booking parking at Sydney Airport. The earlier you book, the more you could save.
How do I book a guaranteed space at Sydney Airport?
Guaranteed space is a reserved section of parking and is only available by booking online. It is currently only available at P7 car park at International terminal. To book a guaranteed space at Sydney Airport, click here, choose your entry and exit times, and select 'Guaranteed Space' when you book.
A Guaranteed Space booking must be made at least one calendar day prior to your nominated entry time.
How do I get to Sydney Airport?
Sydney Airport is located 8km from the Sydney CBD and driving takes about 25 minutes in light traffic. Most routes to the airport carry regular signs of the universally recognisable aeroplane symbol. Once you're in the airport precinct, follow signs to the Domestic or International airport as needed.
Is there free parking at Sydney airport?
Yes. Free parking is available in the Express Pick-up zones for up to 15 minutes once per calendar day. You can also park free for up to an hour at the Blu Emu car park. Free shuttle buses run from the Blu Emu car park to the T2 and T3 Domestic terminals every 15 minutes from 3:30am to midnight (every 30 minutes between midnight and 3:30am).